Our large Auto Body Shops directory of the Automotive/Garage catalog
is your best source of information on auto body shops, services specializing on repairs of damaged cars all makes and models after car accidents, collisions and other incidents resulting in the vehicle's body harm in Westborough, MA and Boston area.
Browse this category and find customers reviews, articles about newwest technology used in the car body repair process, new methods to select and combine colors to repaint car after accident. You would be able to find body shops offering you a car for free on the period of repair, free estimate, free car delivery to your door and many more different services and options available for your convenience. You are on the right place to find best body shops and services available to fix damaged vehicles for a very reasonable price with great customer service and guaranteed quality in their work.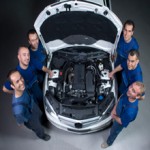 Auto Repair in Dedham
Auto Repair in Dedham is a full service body shop, located in Dedham, MA. Our company is in this business more than 20 years and we are proud to be one of the best in the industry.