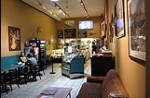 Anogora Cafe

With menu options such as pizza, soups, salads, sandwiches and wraps,
Angora Cafe at Commonwealth and Babcock
is a great place to stop by for lunch or a light dinner. Their most popular choice, however, is their frozen yogurt which comes in sizable portions with a variety of mix-in options.
Angora Café;
the name of the quality food for years. Being located across from the Boston University west campus, the European style cafe & restaurant has a variety of customers from all ages.
What makes Angora Café famous is it's history, it's location and it's great menu. The first store was opened in 1985. For more than 16 years Angora Café stayed at the same place. But in order to improve its quality and service they moved to a new location that has more space to serve better then ever. Its new location is 1024-A Commonwealth Avenue Boston, MA. With the larger store they hope to give a unique experience with the unique menu, friendly and relaxed atmosphere.
Recently, Angora Cafe has added a new dimension by including
Catering
to their business. Catering by Angora Café offers unique blend of Mediteranean and American cuisine. From corporate receptions to birhday parties and Gallery openings to backyard barbecues, every affair begins with an experienced and attentive event consultant, who custom designs each menu and coordinates food and presentation to ensure a spectacular event. All menu items are prepared from the freshest ingredients, which are procured from specialty food growers and purveyors from around the globe.