No other nation has such a variety of food or such contrast cuisines, as the United States. That is perhaps why there is no one national cuisine. America has developed a variety of overlapping regional cooking styles including the native dishes of New England, the Dutch (German) cooking of Pennsylvania, the French Creole of the Deep South, the Mexican influence on Western cooking and many other tasty influences that can be characterized as culinary exclusiveness.
The Cafes directoryof the Food & Beverage, Stores directory contains links to a large number of eating establishments from the numerous very basic inexpensive cafeterias and fast food institutions to the most elegant cafes.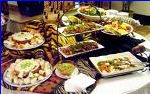 Odessa Catering
Odessa Catering business provides full catering services for various types of celebrations. Our specialists will assist you in selecting menu based on your preferences and budget. We deliver food to your home or office.