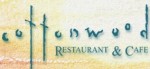 Cottonwood Restaurant & Cafe

Contemporary Southwestern Cuisine
Located in historic Copley Square, Cottonwood serves lunch and dinner daily with a weekend plated brunch.
The Cottonwood has earned a reputation of distinction in the successful planning and execution of functions. We give our utmost attention to planning every event, from impromptu office parties to formal seated wedding receptions.
We offer semi-private and private dining spaces as well as a three-season patio. We pride ourselves in designing a menu for each individual client so that no two events are identical and to allow for individual budgeting.
The Swing Room

The Swing Room's huge bay windows overlook the bustle of Berkeley St. Perfect for small dinner parties or mid-sized casual get togethers. Semi-Private.
The Vault Room

The center of our dining room, the vaulted ceilings and soothing lighting are perfect for large dinner functions or very large informal gatherings.
The Patio
Our 3-season patio is the perfect place to enjoy a relaxed Southwestern attitude. Sip margaritas and bask in the sun, or host your own outdoor party.
The Private Dining Room
When privacy is a must. This cozy, secluded room is seperate from the rest of our dining room and is available for dinner parties of up to ten people.
Menus
The dinner menu is anchored by several dishes expertly prepared on an open, mesquite grill. The menu highlights several chef's selections, which change often to reflect the freshest seasonal ingredients available, as well as daily specials.
For Lunch, the Cottonwood provides high quality meals with attentive service at an astounding pace. We also provide three specials daily, to allow our regulars enough variety to keep them coming back. Entrees priced between $6.00 and $10.00.
Cottonwood Café offers a casual alternative to dinner. In addition to our dining menu, guests seated in our café may order lighter fare at extended hours. Come early on Thursday and Friday for one of Boston's best after-work crowds. Reservations not accepted.