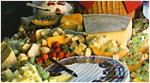 Boston Café & Catering

Our services are flexible and can be geared to fit many different types of events and budgets - from the informal buffet to the formal dinner party or cocktail party with full china and silverware service.Within the above links of our Menu section, you will find a variety of menus for your perusal. Please keep in mind that we are always happy to design a special menu geared specifically to your needs. After all, all events are different and we want yours to be perfectly suited to you and your guests. Boston Café & Catering has an extensive list of locations available for your event. Each location has its own unique charm and offers a diverse list of amenities. Whether you prefer a sandy white beach on the ocean or a secluded private camp, we can help you find the perfect spot for your group. We are happy to check availability, pricing and even book your date for you if you desire. Please refer to our outing location guide for further details.
Menus
Boston Café & Catering offers extensive and diverse menu packages from Texas Style Barbecues to Old Fashioned New England Clambakes. If you don't see a particular package on the menu that meets your needs, just ask your catering consultant to create a package just for you. Whether you are planning a Hawaiian Luau or a Carnival Theme event, we have the flexibility you are looking for.
Side Dish Selections
Red Bliss Potato Salad, Creamy Cole Slaw, BBQ Baked Beans, Garden Salad, Pasta Salad or Potato Chips
Specialty Food Items
Both children and adults will love our novelty specialties such as Popcorn, Cotton Candy, Soft Pretzels, Ice Cream, Slush served from a slush cart, Sodas and other novelty beverages. Pricing is available upon request for these items.
Thank you once again for your interest in Boston Café & Catering. I truly hope you will give us the opportunity to impress you with our quality and professionalism. Please do not hesitate to contact me if you have any questions or if I may be of any additional assistance. I look forward to speaking with you soon.
Boston Café & Catering is ready to serve you!