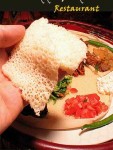 Addis Red Sea

Ethiopia is a fascinating place. It is a land with culinary delicacies as complex and rich as its culture. Come to Addis Red Sea to experience our unique blend of hospitality and authenticity. Addis Red Sea is one of Boston's only authentic Ethiopian restaurants. We are proud to offer traditional Ethiopian cuisine in a warm and friendly environment.
Ethiopia is a very interesting and culturally rich country. It was the only African country to resist Colonialization with the exception of a short occupation by Italy between 1936 and 1941.
Ethiopian cuisine utilizes a sophisticated array of spices and flavorings to produce a rich and flavorful taste. Many of our delicacies are on the spicy side, while some others rely on more subtle and mild combinations.
Come discover Ethiopia's charm here at Addis Red Sea, Boston.
Appetizers
Sambusa - Pastery filled with:
a. Lentils and green peppers spiced with cumin, garlic, onion, with a touch of nutmeg.
b. Spiced ground beef flavored with cumin, garlic, onions, with a touch of nutmeg.
c. Vegetarian - carrots, potatoes, green beans, and cabbage. 6.95 ea.
Dabo - Special Ethiopian bread with a tasty crust made with Semolina flour spiced with cumin and basted with oil. $4.50
Ye-Awaze Dabo - Thick Ethiopian bread with a dip of red pepper sauce. Spiced with Ginger root and berbere (hot pepper sauce). $4.95
Ayib Begomen - Cottage cheese mixed with mitmita and gomen. $5.95
Dibulbul Tips - Stir-fried marinated ground beef mixed with onions, green peppers and herbs. $6.95
Lamb Entrées
Yebeg Wot - Lamb simmered in red pepper sauce, seasoned with ginger root, garlic and cardamom. $9.95
Yegeb Alcha - Lamb simmered in a mild sauce of butter, onion, ginger and tumeric. $8.95
Lega Tibs - Lamb chunks sautéed in oil seasoned with onions, green peppers, rosemary and black pepper. $12.95
Goden Tibs - Riblets sautéed in oil seasoned with onions, black peppers, green peppers and rosemary. $10.95
Dulet - Tripes, chopped red meat and liver, mixed with herbal butter, chili powder, onion, green pepper and ginger. $10.95