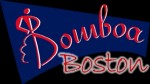 Bomboa
"I don't think I've ever been in a restaurant this exciting," my lovely 18-year-old guest said as she squeezed into the purple velvet banquette in the corner of Bomboa, the French-Brazilian-themed restaurant in what once was the white-hot Zinc. She and her equally lovely friend had just been sent into arm-trembling thrall by the big tropical fish tank that dominates the far wall of the narrow shoebox of a room. "Did you see the sand-eating guy?" one asked the other, pointing to a brown-flecked white fish. "Awesome." They wait for the whoosh of bubbly water that reinvigorates the fluorescent swimmers and stare attentively at the room and the couples around us.
Apart from the live fish, quite a number of beautiful and flashy things are in motion here. "Bomboa" is the joining together of the masculine and feminine forms of the Portuguese word for "good," and the very restaurant results from a union, this one Anglo-Brazilian. The life of the tall blond chef, E. Michael Reidt, changed when he laid eyes on a young woman from São Paulo who walked through Zinc's door looking for work. He vowed to get a date and married her. Courtship and the first years of marriage came with the pleasant duty of spending weeks and months at a time in Brazil, where the Boston-bred, Culinary Institute of America-trained Reidt expanded the repertoire he had learned at Olives.
Bomboa is the first in a planned series of restaurants by an under-30-year-old consortium of hip Boston restaurant veterans, particularly veterans of La Bettola and Olives-including Carlos Hidalgo and Kasey Anton. Their goal is to mimic Chicago's Lettuce Entertain You group, which combines better-than-passable food with entertainment. Let's hope this group doesn't get any more corporate and formulaic than Bomboa, which retains many idiosyncratic handmade touches through its very handsome-and overtly theatrical-design. The big square window on the fagade, just behind Mistral and the Hard Rock Cafe, looks like a refuge from the pre-renovation Times Square, edged in white light, trimmed with purple, red, and blue curtains as if around a proscenium, and topped by a blue neon sign that fairly dances out the name.