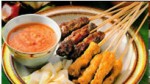 Aneka Rasa
Malaysian Cuisine
Malaysia has long been the crossroads in Southeast Asia and the country's foods reflect that.
Malaysian cuisine blends Thai, Indian, Chinese and local Malay tastes to create original Malaysian cuisine.
This includes the spiciness of Thai food, the exotic spices found in Indian food, the wok stir-fry style of Chinese food, and original Malaysian tastes.
At Aneka Rasa, located in Allston, MA we believe in using only the freshest ingredients in all our dishes but especially our seafood specialties, which is prepared with live seafood from our indoor aquarium tanks. Aneka Rasa also goes through great lengths to gather spices faithful to true authentic Malaysian cuisine.
Enjoy delicious authentic Malaysian cuisine from appetizers to dessert. In addition, Aneka Rasa features many exclusive Malaysian dishes that cannot be found in any other Malaysian restaurants in Boston or in the United States!
These specials include Nine Level Cake, Otak-Otak, and Eight Treasure Duck available for a limited time only or through special order. .
Our staff will always try our best to satisfy reasonable requests made by our most valued customers. At Aneka Rasa, our staff aim to create the most enjoyable dining experience.
We Serve Lunch and Dinner Menu