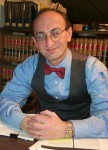 Law Offices of
Eugene Lumelsky M.A., M.S., J.D.

As a knowledgeable and experienced criminal defense and divorce attorney, Eugene Lumelsky handles a wide range of cases. If you have been accused of committing a crime, Eugene Lumelsky is available to answer your questions and handle your case in any court of the state of Massachusetts.

In addition, Eugene Lumelsky's office handles divorce, child support and child custody matters.
Eugene Lumelsky also handles general practice such as various contractual disputes related to landlord/tenant, construction and labor matters. His office also prepares wills.
Attorney Eugene Lumelsky speaks fluent Russian and provides you with all you need to know about your matter in your native language.

Eugene Lumelsky is able to help because of his diversity in law practice areas. His philosophy is to provide the very best representation possible. Eugene Lumelsky is available to you twenty-four hours a day, seven days a week. His dedication and commitment is unmatched.
Don't miss the opportunity to get a valuable legal advice when you most need it from a qualified attorney Eugene Lumelsky.
Contact Attorney Eugene Lumelsky'office with any questions.