Are you looking for a professional and competent dentist in the Boston and the Greater Boston area? You are on the right place. Our Dentistry and Dentists directory of the Clinical Medicine of our Medicine and Doctors catalog is the best source of information on dentists offices specializing in dental, preventive, restorative and others procedures in the dentistry. Find the best advices, articles, news, new directions in dentistry, patientís testimonials in our comprehensive and most completed directory.
Browse our directory for the well-known professionals, best dental clinics, dentists specializing in the treatment of periodontal diseases and surgical placement of dental implants, general, endodontistry, cosmetic dentistry and others.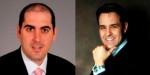 Newton Centre Orthodontics
Roberto Carvalho, DMD, PhD and Menachem D. Roth, DMD, MMSc , Orthodontists in Marlboro, Northboro, Newton provide quality dental care for adults and children specializing in Orthodontistry, in the diagnosis, prevention, and treatment of dental and facial irregularities. Our dental practice has 3 locations: in Newton, MA, Marlborough, Northborough devoted to regain and improve the natural attraction and beauty of your smile.