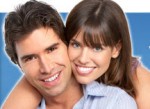 Alegre Dental

As a dental care provider, our number one priority is to provide our patients with the most up-to-date
dental care
using the newest technology and with the help of a courteous, well-trained and professional staff. Our level of excellence in dentistry is a result of our tireless dedication, continuous training and a state of the art facility, that is equally as beautiful.

Facilities and Equipment
We provide our patients with excellent care using
state-of-the-art equipment
which delivers the latest technologies in
teeth cleaning and teeth whitening
. Our high technology equipment includes as well all instrumentation for general as well as cosmetic dentistry. The water that is used in our office is filtered using the latest technology filtering systems. All instruments and materials used in treating our patients are Stream Autoclave sterilized, which is the most effective means for sterilization available in the field. Our modern facilities and ergonomically designed chairs provide comfort to our patients.

Composite Fillings
Today, you can get your cavities, as well as any other smaller hollow areas in your teeth, filled with composite fillings.
Composite fillings
are made from resins that are matched to your tooth's color - so they become invisible when applied.
Composite fillings also provide an excellent seal on the affected area, so that tooth decay can be prevented.
Oral Surgery
While most procedures can be accomplished in our office, oral diseases, trauma, TMJ disorders, and other types of surgery must be performed by a qualified oral surgeon.
Our
oral surgeons
are licensed in dentistry and received additional years of training in surgery, where often surgeons choose a special area of focus – such as cosmetic surgery, reconstruction, or craniofacial surgery.
General Dentistry
A visit to the dentist's office isn't just about checking for cavities anymore – there have been incredible advancements in the field of dentistry, and we have responded by expanding our range of custom dental care services to suit your needs.
We are always at the forefront of the latest research in dentistry and use the most up-to-date methods and technology to help our patients' achieve their desired smiles. At
Alegre Dental
, we frequently perform a wide variety of general dental procedures, so you can rest assured that yours will be performed by a skilled and experienced medical professional. With an arsenal of state-of-the-art equipment and an expert multidisciplinary staff dedicated to your dental health, we are in a unique position to offer best-in-class dental care.
Our commitment is to providing the highest quality of dental care for our patients, and we want to do the same for you. For more information or to schedule an appointment, please contact us today.