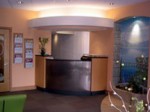 When you visit our office, your smile is our top priority.
Our entire team is dedicated to providing you with the personalized, gentle care that you deserve.
Dr. Fayerman has over 20 years experience with more than 11 years in the South Shore area.
Aqua Dental was built with you in mind:
We are conveniently located right off Exit 5A Route 93. Our office is across from Lombardo's and Holiday Inn at the Gateway Plaza.
We have evening and Saturday appointments available to make it more convenient for you.
All treatment rooms are equipped with TVs to provide you with more comfort.
We use Hi-Tech equipment that is considered the latest in the dental world, and we made sure that this technology is what would be recommended for the next ten years.
Dr. Fayerman, D.M.D.
Doctor Fayerman has dedicated his life to giving people beautiful smiles.
He has grown to love the South Shore, its atmosphere, and the friendliness of its residents, which is one of the main reasons he moved here.
Dr. Fayerman has substantial experience in smile design and functional aesthetic dentistry including the use of oral implants.
The way he sees it, each smile is a work of art and it is his job to exercise all of his knowledge and talent to give you your very best smile.
A graduate of Tufts University, he has over 20 years experience in dentistry. Dr. Fayerman is a member of the American Dental Association, the Massachusetts Dental Society, and the South Shore Dental Society.
Marc E. Pearlstein, D.M.D., M.S.D
Dr. Pearlstein is our Periodontist. A Periodontist is a dentist who specializes in the prevention, diagnosis, and treatment of gum diseases. In addition, a Periodontist performs cosmetic periodontal procedures to help you achieve the smile you desire as well as the placement of dental implants to restore lost teeth. Dr. Pearlstein his dental degree in 1992 from the University of Pittsburgh School of Dental Medicine.
He says: It is my goal to work closely with my colleagues to help you achieve your oral health goals.
Your smile is our first priority, and we'll give you something to smile about. If you have any questions, concerns, or would like to schedule an appointment, please contact us today.
We look forward to providing you with the personal care you deserve.

Below are just some of the many procedures and services we regularly provide to our patients – with a gentle touch, and stunning results.
Cleanings & Prevention
Dental Exams & Cleanings
Dental X-Rays
Home Care
Cosmetic Dentistry
Dental Implants
Composite Fillings
Porcelain Crowns (Caps)
Porcelain Fixed Bridges
Porcelain Inlays
Porcelain Onlays
Porcelain Veneers
Tooth Whitening
Periodontal Disease
Diagnosis
Treatment
Maintenance
Restorations
Amalgam Fillings
Composite Fillings
Crowns (Caps)
Dental Implants
Dentures & Partial Dentures
Fixed Bridges
Inlay Restorations
Onlay Restorations
Root Canal Therapy


You can find a dentist in Milton, Randolph, Brockton, Dedham, Quincy, Weymouth
Just Contact Us