Haircutting Salons

Manicurists and Pedicurists

Skin care
Beauty and Haircutting Salons directory provides links to full service salons which offer haircutting and coloring, hairdresserís and cosmetics services, massages, modern technologies of cosmetology, body wraps, manicures and pedicures, facials and many more treatments in Woburn,MA and Boston area. .
Beauty and Haircutting Salons links - great source of information to find web sites containing photos of the very latest trendy hairstyles, tips how to keep your hair, skin and nails healthy.Most of the salons sell hair products, accessories,nail polish and we provide information where to buy the best products.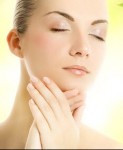 Blooming Nails in Wellesley/Skin Care and SPA
Blooming Nails in Wellesley/Skin Care and SPA by Yulia Merkushina is the perfect day salon and spa to fulfill your cosmetic desires, such as getting pampered by a makeup artist at our prestigious facility. We offer many services from facial masks and hair waxing to eyelash extensions and wedding makeup.