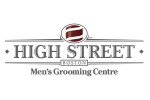 High Street

High Street Men's Grooming Centre is Newbury Street's only salon catering to a male clientele. We provide a comfortable, professional environment for the man who wants high-quality hair-care and grooming services, and amenities that are just for him.
The High Street Standard hair package includes a hot towel facial, scalp massage. The Joe On the Go hair package offers the fundamentals for tight schedules. Trims, scalp treatments and manicures are also available.
High Street carries premium styling products formulated for men, including the ones you expect plus a few hard-to-find lines. To further add to the personal experience, every station is equipped with a flat screen linked to an overhead directional sound system that limits noise to provide your own personal retreat.
Complimentary coffee and water is available. High Street stylists are highly experienced, will work with you to create a great look that complements you and are dedicated to providing you with a comfortable, upscale grooming experience you'll look forward to again and again.Walk-ins are welcome or call for an appointment.
Gift certificates are available.