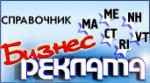 Business Reklama

Free Russian Advertising magazine in New England
We would like to introduce a Russian Advertising Magazine in New England to you.
"Business Reklama" is a monthly publication. Every issue contains all sorts of advertisements,including a list of companies and businesses operated by people who speak Russian in New England,valuable information and interesting articles about life in New England and community events.
This is what makes "Business Reklama" so popular among the Russian community.
The magazine is distributed for FREE to Russian stores,business offices(lawyers,doctors,etc.) where staff members speak Russian and trough direct mail to Russian-speaking customersall over New England.
Currently, our distribution list consists 12500 addressees.Majority of our subscribers live in East Massachusetts (Boston, Brookline, Framingham, Natick, Newton, Needham, Dedham, Sharon, Lynn areas), New Hampshire and Connecticut.
We cordially invite you to place your advertisement for a very affordable price.
You can see our Russian Boston. Business-Reklama Magazine on-line.
You can find rates and information about our magazine here.
Our professional designers can create a unique and distinct display ad as well as an Internet banner.
When you place your ad in our publication, it also will be automatically placed in Russian Network the USA. Informational portal.
When you advertise with our magazine, your information will be published for FREE in the following servers:
Business Catalog - The most complete business catalog of Russian businesses.
Zhen Sovet - Women's forum in the USA.