If you are looking for the real professionals or if you want to get a prestigious job, you may be sure, that the Employment in Marketing category is the best place for your search You will find the whole list of services, agencies, recruitment procedures in the Advertising & Marketing catalog and its Employment in Marketing directory for the company specializing in this field, providing services, help for people interesting to be employed and suceed in the marketing in Boston, MA and Boston area..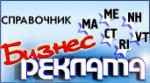 Business Reklama. Russian Boston. Advertisement MA
Russian advertising magazine "Business Reklama" was established to bring a reliable and complete information about businesses operated by people from the former Soviet Union and to help Russian population in finding services it might need.