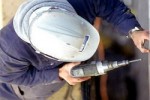 A&S Interior
Construction and Remodeling in Boston, MA
Many years of experience and great success!
Why choose A&S Interior? When you are thinking about home improvement project, you should make a variety of hard decisions, such as colors of paint, styles, finishes and many, many more.
Our construction and remodeling specialists work here, in Boston MA, and surrounding area (Boston, Brookline, Brighton, Newton, Dedham, Weston, Waltham, Somerville, Wayland, Framingham and Natick) and will help you make your new, dream home, which reflects your taste, we know our business very well and ready to help you.
One of the most important decisions is to choose qualified contractors for your project. The company you are going to select should take a good care of your home remodeling, interior and exterior painting, that's why it's necessary to look beyond the prices and consider reliability of the contractors.
Our construction and remodeling business has grown into a great company with well known reputation and professional customer service. If you had chosen us, you made the right choice!
We provide the following services:
New Construction
Remodeling
Roofing
Painting - interior, exterior
Closets - build closets
Kitchen cabinets installation
Floor- laminate, linoleum
Floor insulation
Wall heating system installation
Tiling - kitchen, bathroom- floors, walls
Finished carpentry-Windows, Doors, Stairs
Moldings
We offer very competitive prices in the region, however, you can try to find even better prices, but, you should remember- your time and money will be saved not only by lowest prices, but a highest quality of work in the construction business. Some of our customers are now in the position of paying twice to have the same work done. There are contractors, who have given the construction and remodeling industry a bad reputation that is why we believe, it is extremely important to make the right choice.
When you pick the A&S Interior, it means you select the most reputable construction and remodeling company with reliable reputation in Boston, Brookline, Brighton, Newton, Dedham, Weston, Waltham, Somerville, Wayland, Framingham and Natick.
We are licensed and guarantee our work. If you would you like to know more about us or our services please give us a call and we will answer all of your questions. We know you will make a right decision by choosing A&S Interior for all your home remodeling needs, for interior and exterior painting, flooring, tiling , etc. If you decide to select a different company make sure it is well known and established company with a good reputation, licensed and insured.
We will be proud to help you upgrade your home, in optimization of existing areas, in construction of new editions to your house. We are professionals in interior and exterior painting, building up closets, kitchen cabinets installation, flooring, and walls l heating system installations, tiling, and moldings.
Proudly servicing:
Watertown, Newton, Needham, Dedham, Boston, Brookline, Brighton, Allston, Waltham, Rochester, Roxbury, Jamaica Plain, Cambridge, Boston, Brighton, Newton, Needham, Brookline, Framingham, Natick, Ashland and many more towns and cities in the Greater Boston area


We are ready to help you with all your construction and remodeling needs in Boston,MA and Boston area!