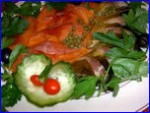 Victor's Cafe

Experience Russian tradition of great hospitality
A good chance to try Russian specialities in Brookline, MA without breaking your budget
Victor's Cafe is a real Russian restaurant in Brookline that serves a very delicious traditional Russian food. According to our philosophy we preserve old ideas, giving history a chance to relive itself.
The menu at Victor's is traditional which means each dish is taking from history and customs.
In our Russian restaurant we can find real blini - crepes stuffed with smoked salmon caviar - their large orange beads simply burst satisfyingly in the mouth.
Every dish is prepared and presented with care by native Russian cook. His delicious recipes includes borscht, lamb chops, just out of the oven potato pancakes, Russian pelmeni
.
For dessert we recommend blintzes with fresh fruits filling, sour cream and jam.
And don't miss the opportunity to taste our salmon caviar.

Victor's Cafe is a lovely place to stop for a cup of tea or coffee with house made mini pastries. It would be hard to find friendlier place in Boston than our Russian restaurant. The interior of our Russian restaurant helps to create relaxed home atmosphere. Small and simple dining room in Russian style is enhanced by fresh flowers. Wood tables are draped with neat white tablecloths.
Our Russian restaurant in Boston takes pride in
Catering and Banquet
Services
.
For every event we offer the finest, freshest ingredients, prepared with creativity and passion.
Victor's cafe in Brookline, MA home made food is enjoyed by everyone!!!
Tuesday-Sunday
10:00 a.m.-10:00 p.m.
Break time
4:00p.m.-5:00 p.m.
Closed
Monday