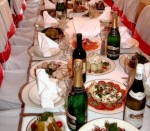 Restaurant Stoli- Boston Russian Restaurant
Restaurant Stoli in Brookline, MA is your choice destination for exquisite authentic Russian cuisine!
The only Russian Restaurant open 7 days a week!
Welcome to Restaurant Stoli, where our guests are treated with Russian hospitality!
Come to join us for a Russian style lunch and dinner served promptly in a relaxing and warm atmosphere.
Our goal is to introduce you to the Russian national cuisine, with all its authenticity and originality.

Russian cuisine is one of the most popular and widely spread in the world. French cuisine is festive and elegant, Chinese cuisine is exotic, Russian cuisine is healthy and delicious. Russian dishes are easy to cook and they do not demand much skill and special ingredients, they do not need exotic equipment and tool and everybody who knows how to hold a cooking knife and how to peel potatoes can cook delicious Russian dishes.
Traditional Russian cuisine, an important part of Russian national culture.
Ask us about Russian recipes.
Our Russian recipes represent rich collection of traditional Russian recipes from old times to our days, reflecting the spirit of Russian people. Russian recipes are the classics of world cuisine
In our Russian recipes cookbook you'll find a great number of palatable dishes (hors-d'oeuvres, main courses, desserts, beverages etc.) from ancient times to the present. With our help you'll taste and find out tales about the most popular ethnic dishes of Russian, Ukrainian, Byelorussian, Georgian, Armenian and other cuisines. We invite you to keep our company and listen our stories over a cup of tea.
Every aspect of Restaurant Stoli shows his artistic touch - from the Russian decor to the refined service and presentation, from traditional Russian tablecloths to the intimate lighting and embrace of warm colors.
Restaurant Stoli is open for lunch and dinner

Life piano music Friday - Sunday
Lunch
Fine dining
Banquet
Private parties
Corporate events
Catering
Enjoy Russian food and Bon appetite!