Garden Tools & Supplies

Lawn Mowers & Tractors

Outdoor Cooking

Patio Furniture & Decor

Plants, Bulbs & Seeds

Power Equipment & Tools

Storage & Heating
This Lawn and Garden section is devoted to an important issue of lawn care, garden supplies and equipment. The websites in the Lawn & Garden directory offer their help, recommendations for lawn and garden, professional lawn care services in Boston, MA and Boston area. Browse this directory and find patio furniture and decor, power equipment and tools, lawn movers and tractors, items for outdoor cooking, plants, bulbs, seeds clothing for gardeners and other equipment to make your lawn or garden the finest place. If you are interested in lawn and garden decor search our Home and Garden Stores category and its Lawn & Garden directory for information, instructions for gardening, decorating tips, ideas for lawn ornaments, decorative stones, sculptures, outdoor furniture and more.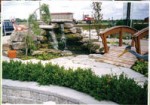 V & F Masonry Contractor Boston
V & F Boston Masonry Contractor is located in Newton MA: between Watertown, Brookline, Wellesley, Waltham and Needham. Let us complete all your projects to high standards and to established dates as to make your house look more enthralling. We can build or redesign your patio, flagstone walkway, stone wall, and foundation repair. We also install sump pumps and do basement waterproofing.