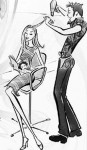 Village Hair Design by Irina
We are here in Brookline to serve you!


A professional Hair Salon in Brookline, MA offering Hairdressing, Hair Cuts, Hair Design, Color, Perms, High Lights, Waxing, Manicures, Pedicures, Eye Brows and other related services.
From modern hair styles to classic designs,
Village Hair Design by Irina
has been a favorite of many looking for trendy or classic styles in Brookline, MA and Boston, MA area. Our friendly hair care and beauty specialists are ready to bring your hair and beauty back to life. When you look great, you feel great and we are committed to providing the best in hair and beauty services.
We are also specialists in Wedding Hair and Colour Correction.
Come to see us in our hair salon in Brookline. You will enjoy your experience. In fact, many of our clients have been with us for years, and most of our new clients are from word-of-mouth referrals.
We are servicing Brookline, MA, Brighton, MA, Boston, MA and many more surrounding towns and cities. We are conveniently located at Brookline Village.
Our hair stylists in Brookline are waiting for you!