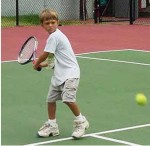 Winchester indoor lawn Tennis Club
Welcome to Winchester indoor lawn Tennis Club! We are dedicated to ensuring
fitness
and health through the wonderful
sport of tennis
. Be assured that your son or daughter will receive individualized attention to reap the best possible rewards that our well-respected facility has to offer. The group tennis classes are completed according the child's age and ability. We believe that practice is the key to building great
tennis players
. Therefore, all of our drills reinforce what is learned during the specific month. Our
tennis school program
incorporates stretching and warm-up exercises into the regimen as aspects of
tennis fitness
.
The basics of playing tennis are taught, including the proper technique to hit the ball and the various strokes that can be utilized while playing the game. Our staff is professional, caring, and totally dedicated to the growth of our students. Your child will be involved in
fitness competitions
through the tennis program. These competitions are held twice per year before tournaments. They are fun, while challenging, and encourage the children to get into physical shape in preparation for the events.
The constant repetition of skills in a short period of time will jump-start your child's improvement by leaps and bounds. There are countless benefits for your son or daughter and adults in a family in attending the
tennis program
. Kid's tennis is excellent for fitness and health that is obtained through learning to play the game properly and having fun.
There are a number of tactical concepts and important strokes that the children acquire as a result of
tennis lessons
. Through reinforcement during practice, your child will become more and more comfortable over time and show a marked overall improvement. We run a weekly
tennis camp tournament
which has undoubtedly come to be one of the most notable features of our tennis camp. The tournament gives each and every player a chance to win tennis-related prizes. Protocol at the camp includes fitness tests. Children are thrilled to be given the same fitness tests of some of their admired professional tennis players during our
camp fitness program
.
Besides from tennis, Winchester indoor lawn Tennis Club
tennis camp
includes a variety of other sport games that the children enjoy after playing tennis to further enhance fitness skills. Relay races are only one example of the physical activities that are performed at the camp. There is a wide spectrum of other activities as well. Our facility has an inviting pool where the children are able to relax, unwind, and undergo a warm-down from the physically demanding day. The kids develop new friendships and interact in groups while feeling good about themselves and their abilities. We think all of these important aspects of
sports
are very important ones; therefore, they are not overlooked at our camp.
Please sign youself and your child up with us as soon as possible, as not to miss out on this fantastic opportunity. Be a part of one of the most beneficial and well-rounded summer tennis programs in all of New England. Contact us to speak with a member of our knowledgeable staff about any questions you may have regarding our facility. We look forward to guiding your child through a wonderful experience of learning and fun!