Assorted Luggage

Briefcases Attaches

Carry-on Luggage

Hardside Luggage

Luggage Accessories

Luggage Sets

Lunch Boxes

Pullmans
In the Luggage and Accessories directory of our Travel and Luggage category you would be able to find a large variety of travel and luggage accessories in Boston, MA and Boston area.
Browse our comprehensive directory to find the best prices for the most comfortable and multifunctional backpacks, computer cases, audio and video bags, fitness and garment bags, luggage sets and lunch boxes, travel packs, briefcases attaches, carry on luggage and luggage accessories to make your trip more pleasant and enjoyable and stressless. Find links to the majority of the best stores in Boston, MA and Boston area selling luggage and luggage accessories for a very compatible prices and best quality.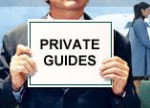 Private-Guides.com
Are you thinking about how to spend your holiday? Are you looking for a professional guide to show you all the wonders of the country you've been dreaming to visit? Then welcome on our website!