Balloon Arrangements

Flowers & Love Romance

Flowers Anniversary

Flowers Assorted

Flowers Birthday

Flowers Congratulations

Flowers Friendship

Flowers Housewarming

Flowers Just Because

Flowers Live

Flowers Sympathy

Roses
Welcome to our Flowers directory of the Gifts, Flowers, Jewelry catalog - your best source of information on best retailers, flowers online distributors, flowers shops, flowers delivery companies, latest news and customers reviews.
Browse our directory and find and purchase online bouquets and baskets,compositions for anniversaries, weddings, birthdays, graduations, friendship arrangements, flowers to express your sympathy and more.
The best florists in Brookline, MA and Boston area are widely presented in our directory. Just pick up a phone and give them a call, ask any questions, ask for advices, information and you would be able to make a choice for the best flower's gift ever.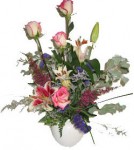 Russian Flora
RussianFlora is the a full-service florist serving Internet customers in countries of former Soviet Union and Baltic countries.RussianFlora offers flower & gift delivery to your friends and loved ones in Russia, Ukraine or any other location in CIS or around the World, just go online or give us a call and select the best flower basket, gift for a very reasonable price to be delivered!