Surprise someone by sending brightly coloured flowers not just for a special occasion, but also "just because".
Just because flowers are a natural way to make a person you love and care feels happy. Send a flower arrangements, flower baskets or vases, bouquets of fresh flowers just because, for any reason or no reason at all. Use our extensive Flowers Just Because section of the Gifts, Flowers & Jewelry – Flowers catalog to find flowers stores, shops, florists and related businesses and services available in Boston, MA and the Greater Boston area. With our links to comprehensive flower resources you would be able to learn a lot about creating nice, impressive flowers arrangenents, bouquets sending and accepting flowers, flowers gifts and gift baskets for the reason -just because.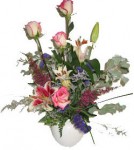 Russian Flora
RussianFlora is the a full-service florist serving Internet customers in countries of former Soviet Union and Baltic countries.RussianFlora offers flower & gift delivery to your friends and loved ones in Russia, Ukraine or any other location in CIS or around the World, just go online or give us a call and select the best flower basket, gift for a very reasonable price to be delivered!